Como funciona
1
Get Referral Link
Your referral link is your nickname.
2
Invite Friends
Invite your friends to register through the referral link.
3
Earn for 12 months
You earn up to 20% of the trading fees for all your referrals.
Transparency on your referal earnings
You earn up to 20% of all trades fees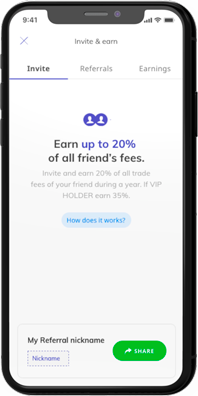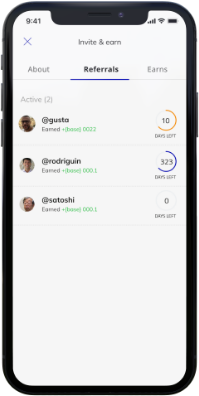 Frequent questions
How do I refer a person using the referral program?
Referring people with your referral code, which is your username.
You can also share via the app directly to anyone you want to refer to Monnos.
What reward do I get for referral?
For each referral, when he signs up with Monnos, you will receive 0.25 USDT in MNS Tokens and the referee will receive 0.10 USDT in MNS Tokens.

Users with VIP HOLDERS status receive 0.38 USDT in MNS Tokens per referral.
What percentage of the trading fee is rewarded?
The trading fees are fixed at 0.3% and the reward is 20% over these 0.3% for normal users.

For users with VIP HOLDER status, the reward is 30% over 0.3% of trading fees.