How it works
1
Buy MNS Tokens
You can buy your MNS Tokens with BTC, USDT and BRL.
2
Hold and Earn
As VIP Holder you have many benefits.
3
Get VIP benefits
As long as you hold the MNS Tokens you will have access to discounts, bonuses and features designed for VIP Holder.
MNS VIP Holder Exclusive Benefits

Earn 30% for every Referral
Of all trade fees of your friend during a year.

Pay 10% off Trade Fee
Pay less fee to buy and sell cryptocurrencies.

Special Gifts and Rewards
Largest awards in actions promoted by monnos.
MNS Token
VIP Holder
Special condition for VIP Holders that
Holding USDT 1.000 in MNS Tokens.
Monnos
Users
Users with a balance available on the Monnos platform.
Access to Exclusive Features
Get Access to exclusives and new features.

Access to MNS Monthly Bonus
Bonus distributed every month to Token Holders proportionally by they have in their MNS Wallet.

Access to special Promos
Access to special conditions in all promotions promoted by monnos.

Bonus Per Referral
At the end of each month will be calculated the transactions times and deposit the bonus equivalent in your MNS Wallet.
Earn 30%
Payment when the user starts using monnos + % trading fees for 12 months.
Earn 20%
Payment when the user starts using monnos + % trading fees for 12 months.
Credit Card with
Cashback.¹
1This feature will be limited by jurisdiction. The Mastercard flag is not a standard; everything will be negotiated according to each jurisdiction.
Buy directly on the


Monnos APP
Buy with Crypto or FIAT and receive your MNS Tokens in real time at monnos wallet without paying any fees.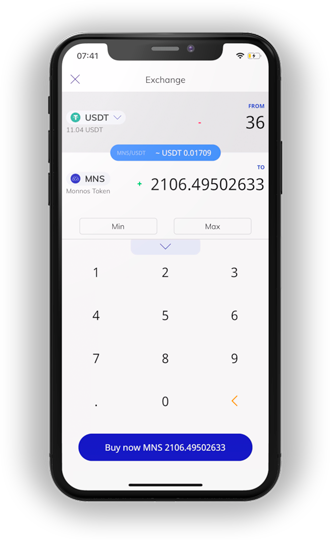 Frequent questions
What is VIP HOLDER?
It is the name given by MONNOS to its most exclusive users.
How can I be a VIP HOLDER?
There are a few ways to become a VIP HOLDER:

• Have more than 1,000 USDT in MNS tokens (58,513.7). If you don't have it yet, see your status and buy directly through the APP;
• Be one of our ambassadors in countries that are not yet represented;
• Be a BETA TRADER MONNOS;
What are the benefits of being a VIP HOLDER?
The benefits will only increase, but initially they are:

1. 30% of earnings in each shared referral;
2. Greater prizes in each action;
3. Exclusive access to MONNOS services and actions.
How do I buy MNS Tokens by Monnos App?
To buy MNS Tokens through the Monnos App, enter the Market and select Tokens and you will see the Tokens available on our platform, select our Token and enjoy!

Another way to buy is accessing My Account (your photo) and clicking on Vip Holder.