NFTs at Monnos, much beyond digital art
Monnos is the world's first UTILITY NFTs platform
We believe that NFTs go beyond art and can create a revolution in the relationship of personalities and brands with their communities, enabling a multitude of different experiences, mixing virtual and real environments.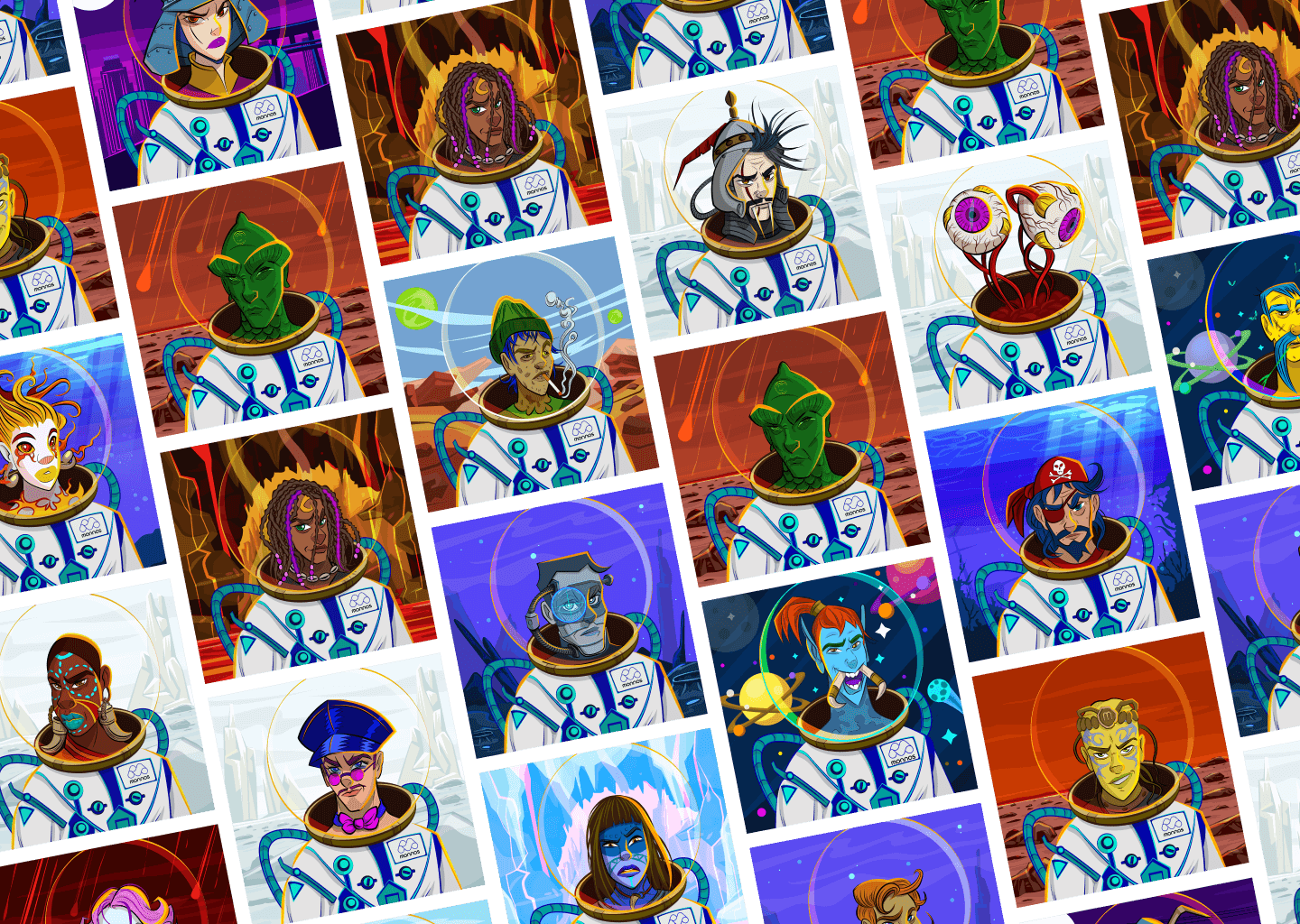 Current collection: Brasil 200
What do you get by buying these NFTs?
Brazil, for the first time, is launching a space mission to the Moon and you will be able to participate in this historic moment. Buying an NFT from the exclusive collection of Brasil 200, you will be entitled to place your photo on the Brazilian flag that will be on a server that will land on the Moon.
In other words, you will LITERALLY go to the moon!
Access the collection's FAQ to clarify all doubts.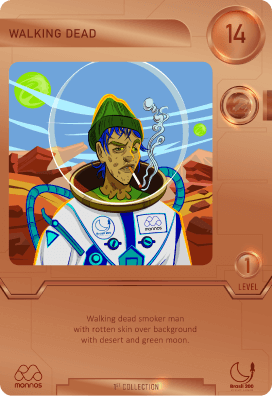 Level 1 (1 moon) (Bronze)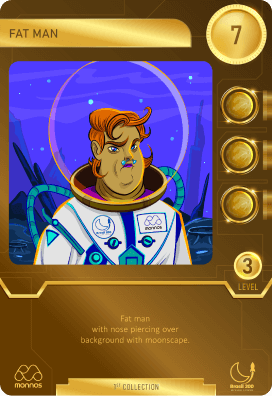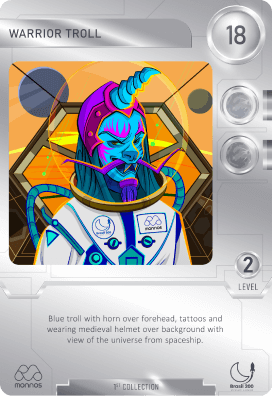 Level 2 (2 Moons) (Silver)
Rarity of NFTs
The more moons, the rarer. We will have promotions by rarity level, and also for NFTs accumulation, for example, if you have 2 rarity level 1 NFTs, it's like having 1 rarity level 2, if you have 3 level 1 it's like having rarity 1 level 3. But there are some promotions that will be restricted to holders of rarity 1, 2, or 3 NFTs and rollover will not meet.
The benefits per rarity level will occur in each collection and will extend regardless of the collection, that is, if you are a holder of a rarity 3 NFT from collection 1 and have a promotion in collection 2, you can be contemplated.
** Benefits will be constantly evolving. Not yet defined.
Get your NFTs and manage them in a really simple way!
The management of your NFT takes place within your Monnos wallet. Without having to send to other wallets. It's really simple!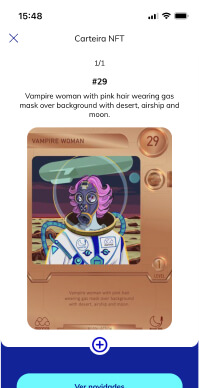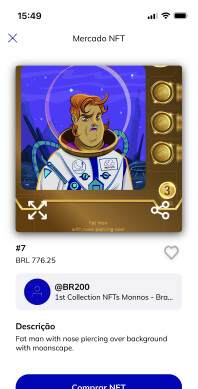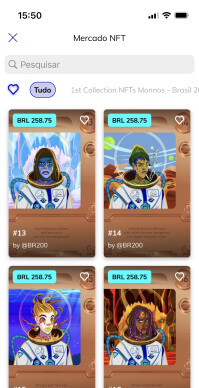 Are you a brand or a personality and want to publish your NFTs?
Build a new experience with your community through the Monnos NFTs Market Place.
Still have questions about NFT?
Can I withdraw my NFTs on Monnos to an external wallet?
At the moment the user cannot withdraw NFTs purchased at Monnos.
We will communicate when withdrawals are available.
Can I transfer my NFTs on Monnos to another Monnos user?
At the moment the user cannot transfer NFTs purchased on Monnos to other Monnos users.
We will communicate when.
Can I sell my NFTs on Marketplace?
At the moment the user cannot sell NFTs on the Marketplace, only purchase them.
With which currencies or cryptocurrencies can I purchase NFTs at Monnos?
All NFTs are currently only available in Brazilian Reais (BRL). In the future, other forms of payment will be available. If you want to buy an NFT in any cryptocurrency, exchange the chosen cryptocurrency in the market for BRL and make the purchase.