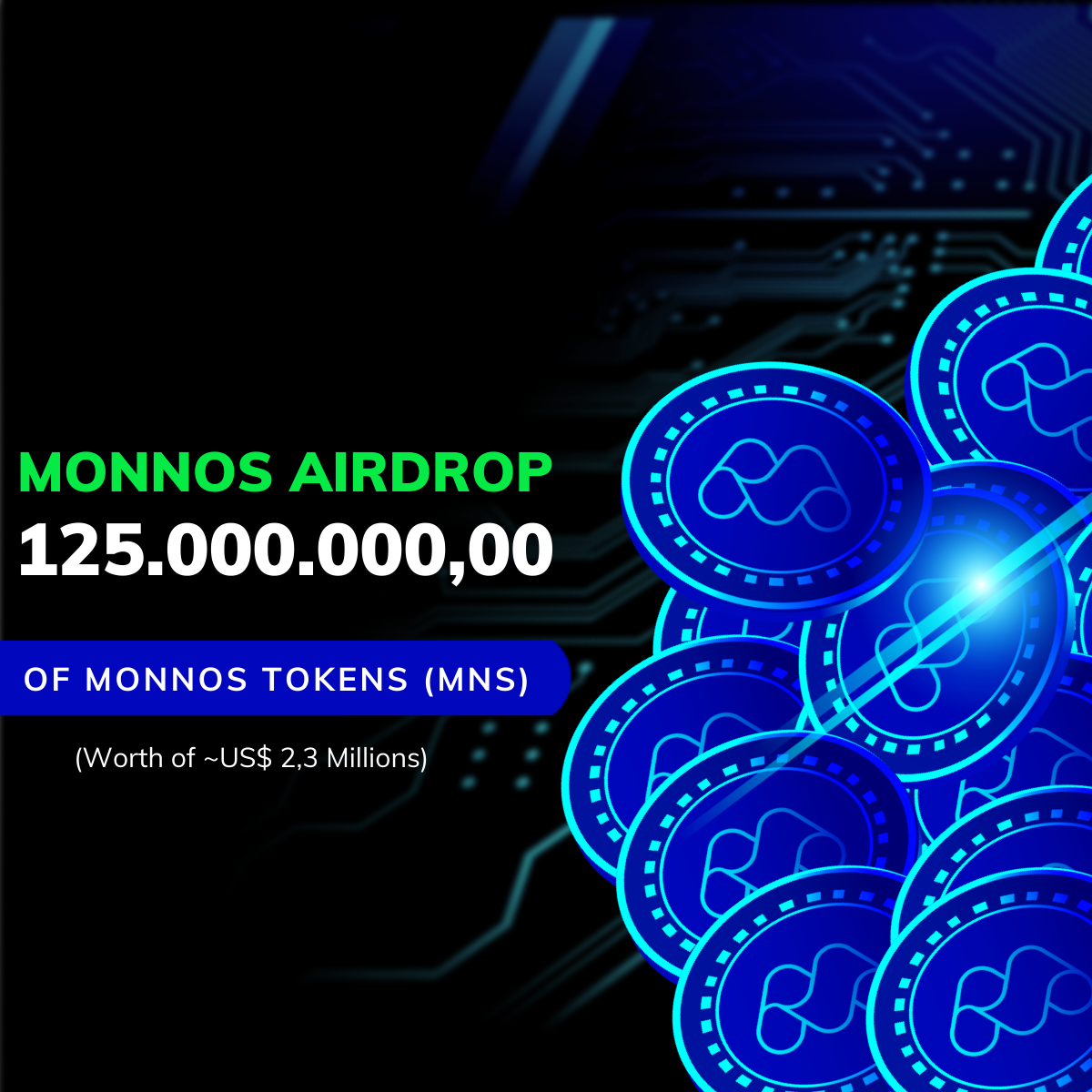 Your opportunity to earn up to 52,208 MNS Tokens worth $ 1,000 is now!
A new phase of Monnos is beginning. We're starting our AirDrop, so be ready to win your MNS Tokens now. Our entire process will be carried out via a BOT on Telegram. The first step in joining Airdrop is to download our app and sign up. That way you will get your nickname @ and with it, you can start joining our BOT on Telegram.
About AirDrop:
When you complete all the tasks, you will receive 105 MNS, worth $ 2.00. If you share with your friends, you get an extra 26.1 MNS, worth $ 0.50 per referral to Monnos APP. And we will have an additional referral bonus. ???
? TOP 10 (1 to 10): 52,208 MNS bonus worth $1,000
? TOP 30 (11 to 30): 26,104 MNS bonus worth $500
? TOP 50 (31 to 50): 13,052 MNS bonus worth $250
** Important: If you do not complete any of the tasks below, you will only receive 50% of the 105 MNS reward.
How to participate:
1- Subscribe to the Monnos app, download on Android or iPhone
2- Follow the bot instructions, talk to AirDrop Bot on Telegram and follow the steps
3- Invite your friends to earn more, in addition, you indicate more chances of getting additional rewards.
We don't require your documents or anything, your participation in our air-launch depends only on your involvement in our social networks. Remember that you can earn a lot more by inviting others! By 12/02/2019, each new guest that you invite and join the app, will earn 105 MNS worth $0.50. In such cases, you will receive notifications from the app itself, the more you share, the more you earn and you can still earn the TOP REFERRALS bonus and you could win an additional prize of up to 52,208 MNS.
Track ranking and placement
https://monnos.com/en/airdrop-ranking
Any question?
Visit our AirDrop Frequently Asked Questions
https://help.monnos.com/en/collections/1865465-mns-token
Share and welcome to the new monnos phase!